iPhone Battery Replace
AMT Electronics specialises in iPhone Battery Replace. We offer expert repairs and iPhone Battery Replace for all versions of iPhones from the older iPhone 3GS to the new iPhone 11 Series. We can repair hardware components as well as corrupt software and data retrieval; not to mention a wide range of other services. All Apple iPhone repairs are provided by our qualified technicians in house in an expedient and efficient manner.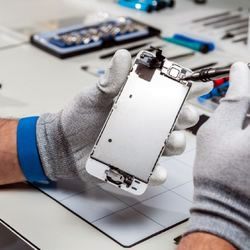 We can repair or replace Apple iPhone cracked screens, damaged iPhone camera's, broken sim readers, software corruption & water damage for all series of iPhones's.
Most units fixed in 30-60 minutes – Same Day Repair
Complete repair for your broken phone, including screen repairs and other faults.
We have many accessory's for your Apple iPhone devices.
Repair your iPhone device, tablet, computer or other hardware/device if it has stopped working or is performing unreliably.
Need help with reclaiming your deleted data files after accidental deletion or hardware failure? We can help!
Ask about booking time with our Mobile Repair Tech to help teach you about how to operate your Phone or how to get a more advanced understanding of the Apple IOS Operating system capabilities. We help with installing and configuring software for your mobile phone!
You can drop off at our store, and express turn-around service is available for urgent Apple iPhone Battery Repair. If you have a problem or enquiry, please Contact Us.
Open 6 days a week in the Melbourne CBD, easy and convenient location, no appointment required! Simply Contact Us for more information
Phone: (03) 9663 9111 or write us.
Open 6 days a week in Melbourne CBD, easy and convenient location, no appointment required!