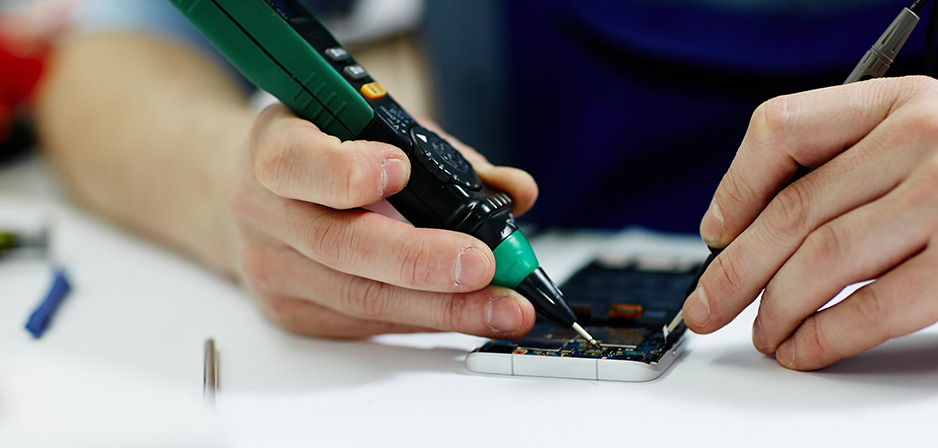 Here at AMT Electronics, we understand how important your iPhone is to you and know how much of a hassle it can be when your iPhone needs repair. We have set up our business to help you get your iPhone back quickly and efficiently with quality iPhone repair services and knowledgeable customer care.
Our store in Melbourne, CBD, carries an extensive selection of replacement parts for all models of iPhones, ensuring that we can fix any issue that may arise quickly.
What's more, our skilled technicians are well-equipped to tackle any repairs on any model of iPhone in minutes – most repairs take no more than 15 minutes, sometimes even less!
We guarantee outstanding results for all repairs done at AMT Electronics, so you can rest assured that once we're done with your device, it will be running as good as new.
So, if you're looking for quality iPhone repair solutions fast, look no further than AMT Electronics!
The most common iPhone repairs include:
Damaged screen
Phone screens are one of the most delicate parts of a smartphone and can easily succumb to damage. Unfortunately, since the introduction of the iPhone 8 in 2017, cracked iPhone screens have become more common as it now has two all-glass surfaces instead of just one.
AMT Electronic strives to help remedy this issue by providing fast, affordable repairs for damaged iPhones. We provide screen repair services that are designed to bring your device back to its normal functioning state in under 15 minutes with minimal effort from you.
In order to prevent future damage, we also recommend using a tempered glass screen protector or purchasing a heavy-duty case for extra protection against accidental drops. The tempered glass is almost as hard as steel and is designed to absorb any light scratches and heavy impact damage before it affects your phone's screen.
With these additions, you can help make sure that your phone lasts longer without experiencing accidental screen damage.
The battery doesn't last long
If you've been noticing that your iPhone's battery isn't lasting as long as it used to, then you may be dealing with a device that won't hold a charge. This is incredibly common in older models of the phone, and many of those who come to AMT Electronics with this problem have iPhones at least three years old or older.
Even if your phone falls into this category, however, it doesn't mean you should stop looking for help; we offer free diagnostic testing to determine whether or not a battery replacement will be beneficial.
If it is necessary for you to get a new battery, there's no need to worry about being without your phone for days on end – we keep batteries compatible with almost all iPhone models in stock at all times, meaning a repair can typically be done within minutes.
So, no matter how old your iPhone is or what kind of issues you may be facing with its battery life, don't hesitate to bring it into AMT Electronics and let us take a look today.
Poor audio quality
It's no secret that the audio quality of our smartphones has improved dramatically over the years; however, poor audio quality still arises from time to time. Whether it's your device's internal speakers not being loud enough or the voice quality on phone calls distorting, it can be difficult to track down and repair the source of the issue.
That's why we offer complimentary diagnostic evaluations of all devices at AMT Electronics. We'll work with you to quickly identify and resolve any audio issues your device may have, free of charge if they're simple fixes such as cleaning out speaker holes.
Our expert technicians are also equipped with in-house micro-soldering services for more complex repairs that involve parts smaller than a grain of rice. With this advanced technology, we can pinpoint more precise components much faster which allows us to repair them without having to interfere with other essential parts inside your phone.
We're always transparent about what repairs are needed and how much it costs; you won't find any hidden surprises waiting for you when you come pick up your device after repairs!
Water damage
Water damage is one of the worst enemies of any device with delicate internal components; it can spell doom for your prized devices such as an iPhone if it gets wet. Apple has been at the forefront in developing phone models that are splash, water and dust resistant, making them safe to use underwater for up to 30 minutes at a depth of up to 1 meter.
But in spite of the rigorous tests conducted under controlled laboratory conditions, iPhones are not fully waterproof and a cracked screen or any other issue could cause water damage.
The most common remedy for light water damage is to leave your SIM card tray soaked in dry rice so that some of the liquid inside the device can be absorbed. If this fails however, you should take your device to a professional repair centre like AMT Electronics where our technicians will assess which components have been damaged by moisture and need to be repaired or replaced.
This way we can give you an honest estimate on how much time and money it will cost to get your iPhone looking like new again.
Technical glitches
Technical glitches are frustrating and disruptive, particularly when they happen unexpectedly. Even the most sophisticated devices can suddenly freeze, turn off or exhibit a pixelated camera screen.
Fortunately, most of these issues have an easy fix — the hard reset. By holding down the volume and power buttons (or the power and home buttons for pre-iPhone 8 models) until prompted to "slide to power off", followed by holding down the power button for 10 seconds or more, your device should go back to normal without wiping precious photos and data.
If this doesn't solve your phone issues or you're uneasy about attempting it on your own, AMT Electronics offers free assessments for any customer's device in their locations. Expert technicians can advise you on the best approach depending on what model iPhone you have and what problem is occurring.
With AMT Electronics' fast service, you won't have to worry about technical glitches for too long!
FAQs
Which iPhone can be repaired?
At AMT Electronics, we have the expertise and technology to repair almost any iPhone model. Whether you have an older iPhone 5 or the newest iPhone 11 Pro Max, our experienced technicians can diagnose and repair any issues related to sound quality, water damage, and technical glitches. Our convenient locations make it easy for customers to drop off their devices and have them repaired in no time. With our fast service, you can be sure that your device will be up and running in no time!
How much does it cost to repair an iPhone?
The cost of repairing an iPhone depends on the type of repair needed and the model of the device. At AMT Electronics, we offer transparent pricing so customers can get an honest estimate for their repairs. If you're experiencing any issues with your device, make sure to drop by any of our locations for a free assessment and repair estimate.
What is the most common phone problem?
The most common phone problem is a cracked screen. Broken screens can be caused by dropping the phone, or accidentally bumping it against a hard surface. It's important to get a cracked screen fixed as soon as possible, because leaving it unattended can lead to more severe damage inside the device. Luckily, AMT Electronics offers fast and cost-effective phone screen replacement services to get your device back to looking like new.
How do I know if my iPhone is bad?
If your iPhone is not working properly, there are some tell-tale signs that can indicate you have a bad device. Common problems such as overheating, crashing when apps are opened and unresponsive buttons are all signs that the phone has an issue. Additionally, if the battery life has significantly decreased or the device restarts on its own without any warning, these could be signs of a defective device. If you're experiencing any of these issues, make sure to visit AMT Electronics for a free assessment and repair estimate.
Can iPhone panel be repaired?
Yes, iPhone panels can be repaired at AMT Electronics. In addition to broken screens, our experienced technicians are trained to repair a variety of issues related to the phone's body and internal components. Whether it's a damaged speaker, microphone or camera lens, our expert technicians can assess and replace these components quickly and efficiently. This way, you won't have to worry about your device being out of commission for too long.
What is the most expensive part to replace in a phone?
The most expensive part to replace in a phone is usually the display. Whether it's a cracked screen or a dead pixel, replacing the display can be costly. In some cases, if your device is still covered under warranty, you may be able to get the repair for free. Additionally, AMT Electronics offers cost-effective repairs and replacements of iPhone displays so customers don't have to break the bank for a repair.
Suggested Read: Part 2 – Common iPhone Problems and How to Fix Them