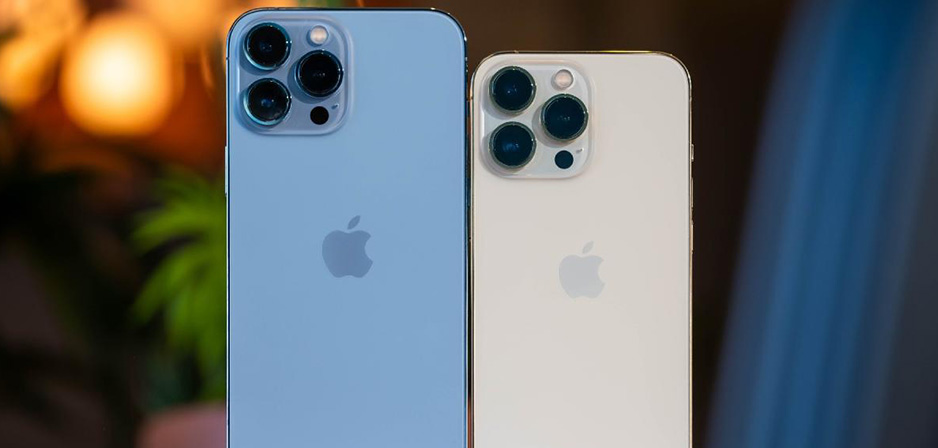 Currently, getting your hands on one of the most sought-after smartphones, the iPhone 13 Pro Max, powered by the world's fastest chip, isn't just exciting. It is also expensive. Therefore, making any quick decisions wholly based on its popularity could be an absolute shot in the dark. That is when we're talking purely about how much value it's bringing in your life in exchange for heavy investment.
Because, let's face it, who wouldn't benefit from three unique camera lenses, the ability to produce vibrant pictures in low light, and one massive terabyte of storage? Most people would love to have such features on their phones even if they don't understand or fully utilize them. The iPhone 13 Pro Max is one such phone that maintains the legacy of the previous generation iPhones while at the same time surprising us with its new features. Let's take a deeper dive into all the features to figure out if the iPhone 13 Pro Max is meant for you or not.
We have already talked about iPhone 13 in one of our previous articles. Read about iPhone 13 here.
Power through the day – literally!
With battery life being one of the most essential determining factors for people from all walks of life, let's address this first. The 6-core processor and A15 Bionic chip were installed to make this iPhone execute seamless performance, with upgraded battery backup and more efficient graphics than its predecessors. 2.5 hours more, to be exact! Unfortunately, though, compared to the previous iPhones, iPhone 13 pro max has become bulkier due to the battery life, which has increased by 18.5%, now delivering a 16.75Wh battery. So, what are your priorities? A lighter phone or extended battery life?
Beauty and the beast
This flagship model of the iPhone is bigger, bolder, and more beautiful than ever. The iPhone 13 Pro Max has a 17.0 cm / 6.7inch (diagonal) allscreen OLED display. It has an adaptive screen that allows the phone's brightness to be dynamic. It is great for people constantly struggling to interpret their phone screens in broad daylight. In fact, in the high brightness mode, it promises 1000 nits (light emitted per unit) and 1200 nits of localized peak brightness.
And the most talked-about feature, the refresh rate, which has been one of the complaints that iPhone users have had, has finally been addressed. Previously, the refresh rate was not efficient enough, making the phone navigation relatively slow. However, with the new iPhone 13 pro max supporting a high refresh rate of up to 120Hz, it can refresh 120 times per second. Despite adding to the user experience through the refresh rate, as mentioned before, the weight of the new phone takes it slightly away. The new model is on the bulkier side, weighing 238 grams (8.39 ounces).
Aesthetic game – strong!
When it comes to colors, apple plays a subtle but classy game. The iPhone 13 Pro Max has set foot into the market with a sleek design and multiple elegant colors. Choose your aesthetic with 5 iPhone 13 Pro Max colors: Sierra Blue, Graphite, Gold, Silver, Alpine Green. The Sierra blue is the new addition to the family.
How much can you store?
The new iPhone storage capacities will make you fall short of data, files, and images. This is because the iPhone 13 pro max has moved a step forward and provides their users with the 1 TB storage capacity. With such a huge storage capacity, the new pro series has become one of the few smartphones to provide its users with the tranquility and peace of never having to worry about storage. Nevertheless, since this blog is about finding out if the iPhone 13 Pro Max is for you, the storage capacity ranges from 128GB to 1TB. The different storage capacity configurations are: 128 GB, 256GB, 512GB and 1TB.
Shoot like a pro with iPhone 13 Max Pro
One of the main reasons users are lured to purchasing an iPhone is its superb camera and video quality. And the new iPhone 13 Pro Max, once again, stands fair on user expectations. From the iPhone 12 pro, they have made several upgrades in the new model. The three back cameras that the phone provides have become more extensive, with each having 12-megapixel lenses. Though the configuration is the same as its previous model, the iPhone 13 Pro has a 1X wide-angle lens, a.5X ultra-wide lens with a 120-degree field of view, and a 3X optical telephoto lens.
Apple's new sensor-shift optical image stabilization, backed by a 3D LiDAR scanner, doesn't just improve the quality of the images. It makes the camera quick to focus on subjects. These lenses are incredibly light-sensitive, creating crisp pictures even in low lighting! Other features unique to the model are its renewed night mode and its ability to shoot in raw format. Talking about the selfie lens, Apple maintains its legacy with a well-built selfie camera. With a 12-megapixel camera on the front of the phone, the front camera on the new iPhone is the single most excuse for insta-addicts to get their hands on this beauty.
You'd like to know more about the camera. It poses a cinematic mode for recording videos with a shallow depth of field (1080p at 30 fps). Just like for images, they have sensorshift optical image stabilization, night mode, and timelapse cinematic video stabilization for video. Furthermore, it can support 4K video recording at up to 60p.
Face ID, apple pay, and much more
Face recognition on iPhone is part of its novelty experience. Still, in the new iPhone 13 Pro series, many users have reported encountering issues with the face recognition feature. Perhaps it is the face masks being adopted in this pandemic, in which case you can always add a fingerprint sensor. With the new 5G technology entering the market, the iPhone 13 Pro Max has adapted quickly to incorporate 5G support (both sub-6GHz and mmWave) within its device.
Additionally, it is wrapped in surgical-grade stainless steel on the body and a ceramic shield on the front for more protection with water and dust resistance. One of the standout features that this new model has is the Dual-SIM support. Needless to say, like all the iPhones, iPhone 13 Pro Max also supports apple pay.
Difference between iPhone 13 Pro Max and iPhone 13 Pro
In the iPhone 13 family, the biggest two contenders are the iPhone 13 Pro and iPhone 13 Pro Max. When it comes to features, both models possess almost the same. However, the key differentiators are both phones' price, display size, and battery life.
● Price – The iPhone 13 Pro and iPhone 13 Pro Max have a fair price gap. The starting price for the iPhone 13 Pro is A$1,699, while the iPhone 13 Pro Max is A$1,849
● Display – There is a slight difference display screen of the two models. The iPhone 13 Pro Max has a bigger, 6.7-inch panel with 2778×1234 pixels, whereas iPhone 13 Pro has a 6.1-inch panel with 2532×1170 pixels.
● Battery – iPhone 13 Pro Max has a 4,373 mAh battery, which translates to 28 hours of video playback. In contrast, iPhone 13 Pro has a 3,125 mAh battery translating into 22 hours of video playback.
Final Thoughts
Having known everything that the iPhone 13 Pro Max has to offer, it is clear that Apple, in its legacy product, is moving towards becoming more user-friendly than ever before. iPhone 13 Pro Max is a beautiful mesh of all the things we love, such as powerful battery life, navigation speed, and over-the-top camera capabilities. Whether or not the iPhone is a smartphone for your unique lifestyle is a choice you'd have to make through all of its assets mentioned in this blog. Suppose you know that camera is a priority while storage may not be one. In that case, you can always pick a model with low storage capacity. You'll choose the iPhone model accordingly if you think storage is a priority, while a big display size may not be. Life is all about making the right choices, and here at AMT Electronics, we help you do the same.
Resources
https://www.apple.com/in/iphone-13-pro/specs/
https://www.digit.in/reviews/mobile-phones/apple-iphone-13-pro-review-super-specs-super-price-review-223641.html
https://appleinsider.com/articles/21/09/30/iphone-13-pro-iphone-13-pro-max-review-exceptional-phones-but-the-pro-max-underwhelms
https://www.theverge.com/22684033/apple-iphone-13-pro-max-review
https://techcrunch.com/2021/09/14/the-iphone-13-pro-and-pro-max-features-120hz-display-better-cameras/