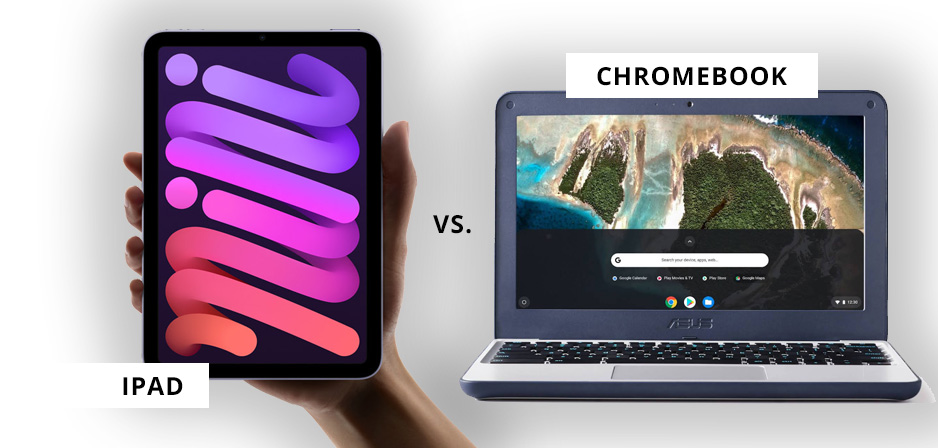 The most passionate advocates of iPad argue that it is the best table ever made. On the other camp, Chromebook lovers mention that it is an affordable and dual-purpose computer. Today, we'll compare the iPad 2019 and Chromebooks side by side.
| | |
| --- | --- |
|   | Winner |
| Price | Chromebook |
| Design | iPad |
| Performance | iPad |
| Display | iPad |
| Battery Life | None |
| Durability | Chromebook |
| Security | Chromebook |
| Stylus | iPad |
| Keyboard | Chromebook |
| iPad Score | 4 |
| Chromebook Score | 4 |
| Total Winner | None |
Pricing
The 10.2 inches iPad starts from $329 for Wi-Fi only version and $459 for Wi-Fi and Cellular model. These models feature a 32GB internal storage. However, that storage is not enough for most people living in the age of HD and 4K images and videos. You can go for the 128GB and Wi-Fi-only model with the cost of $429. If you need the cellular network too, it will cost you an extra 100$.
Unlike iOS, the ChromeOS is an open-source operating system. This gives other companies the opportunity to create and sell Chromebook at a wide range of specs and prices. As a prime example, the Lenovo Chromebook C330 is both economical and powerful. It is just $250. Despite low-price, it comes with excellent performance and a generous 64GB storage. At this price you also get a built-in keyboard and mouse, a feature you have to pay for it on iPad.
In most cases, Chromebooks provide better value compared to the iPad as well as extensible storage with an SD card, something the iPad still lacks. This will a good reason for some people to go for Chromebooks.
Design
At a glance, the metallic frame of iPad Pro looks nicer than most Chromebooks which come in hard plastics. The iPad is also slimmer and lighter. For example, Chromebook C213SA and the C202SA weight about 1 pound more than iPad Pro. However, none of these devices are too heavy for a backpack. The advantaged of Chromebooks is that they are 2-in-1 machines. You can use them as either a tablet or laptop based on your needs.
In terms of design, the iPad is superior but Chromebooks present a 2-in-1 functionality that is good for both day to day usage and office tasks.
Performance
The iPad Pro is powered by an A12 Bionic chipset demonstrating excellent speed and stability especially in multitasking and machine learning tasks, while most mid-range Chromebooks are packed with older CPUs and middling performance.
The A12 Fusion processor of the iPad is definitely a lot faster than Celerons found in middle-range Chromebooks, but if you pay more, you get a high-end Chromebook with a lot of processing power.
Display
The high-resolution, bright and colorful display of the iPad is hard to beat. it gives you a 264ppi sharp screen for viewing your work. On the contrary, most educational Chromebook get along with a low-quality panel. For example, C213SA and C202SA are shipped with 11.6-inch screens with a resolution of 366 x 768-pixel. Compare this to 2048 x 1536 pixels screen of iPad and its sharp true-depth colors.
Battery Life
Apple claims that the iPad battery will last up to 10 hours of video playback using Wi-Fi, and testes approved it. The battery life tests also show that the battery of Chromebook C202 emptied in eight and hours while the C213SA withstood for more than 11 hours.
Therefore, the battery life of the iPad is approximately the same as some Chromebooks.
Durability
No matter you are going to handle the tablet to your kids or you simply want a machine that resists daily wear and tear buying a rugged device is essential. A lot of Chromebooks are made some grades of military standards in mind. They feature drop protection, water-resistance, and spill-proof keyboards. A good example is Lenovo 300e (2nd Gen), an ultra-durable Chromebook.
While the iPad is also durable but it is neither water-proof nor rugged. iPad Pro models are rated among the most fragile tablets in the market.
This time Chromebooks are distinct winners in the era of durability.
Security
The iPad sports a Touch ID fingerprint sensor which prevents unauthorized access to your machine but you should download and install security patches and updated manually. Comparatively, the ChromeOS automatically get the latest security updated from Google in the background and installs them during the boot process, keeping you always up-to-date.
Again, Chromebooks are to be crowned as the security winners.
Stylus
No matter which iPad you use, it will work with Apple Pencil. Even the new iPad mini now supports the Apple Stylus. Some Chromebooks ship with an included stylus but the level of power and precision is not comparable to Apple Pencil.
If you place a high value on creative drawing or want something to take quick notes in class the iPad has the upper hand.
Keyboard
If you need to type long texts it is likely that you prefer the Chromebooks. Unlike iPad, they come with a handy physical keyboard that can be used for both typing and navigation.
So, if you want to type a term paper you may want to check out Chromebook or buy a Bluetooth keyboard for your iPad.
The iPad is superior in design, performance, and display as well as the support for Apple Pencil. In comparison, Chromebooks are more affordable and durable. They are also more secure and convenient for typing with the functionality of both tablet and laptop.
References: