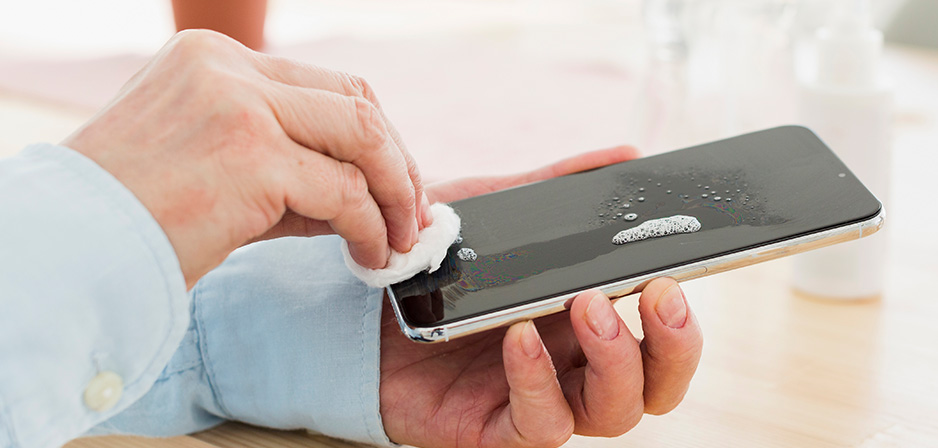 iPhone is the first true smartphone on the planet and definitely the most powerful one in the market. But all the power and beauty come at a very high expensive cost. So, it's very likely that you want to implement some measures to keep your iPhone fast and clean and make it last for a longer time. In this part, you'll learn some other tips to extend the life span of your phone.
How to protect your iPhone from germs and bacteria
Our mobile comes in contact with many surfaces throughout daily life. So, it's important to keep our iPhones clean and bacteria-free. Health experts recommend cleaning your iPhone at least once a day as a preventive measure. Apple has issued a guideline for how to clean your Apple product.
Here is how to disinfect your iPhone:
Unplug the device.
Use slightly damp microfiber clothing for cleaning
Don't spray cleaners directly onto the device.
Avoid aerosol sprays and cleaning solutions that contain bleach or abrasives.
Keep liquids and moisture away from any openings on the device.
If you want you can use a disinfectant to sanitise your device, but you don't apply the solution directly on your phone. Damp a piece of soft lint-free clothing with the sanitiser slightly and wipe your iPhone gently with it. Be aware that disinfectants containing alcohol, bleach or vinegar may wear down the protective coating on a smartphone's screen.
You can also implement these protective to minimise the exposure of your iPhone to Germs and Bacteria:
Keep your phone inside your pocket, purse or car outside of the home.
Use a written shopping list instead of a list kept on your iPhone.
Don't you the Pay App on your iPhone for shopping. Instead, use a credit card preferably a contactless one.
When you come home from a public place only touch your mobile you washed and sanitised your hands.
Use a hands-free device such as AirPods for calling.
Clean up Hard Drive Space
If you are running short of space on your iPhone it's time to reclaim some space on your hard drive. Besides, you should clean up the hard drive on your iPhone time by time to keep it in a good shape.
It's not certainly known how much space you should keep free on your iPhone, but as a rule of thumb, it's good to keep at least 500MB to 1GB on your hard drive when you can. This seems to be enough room for the apps to store data so that you won't worry about crashes.
First, you should find which apps are taking a lot of space on your hard drive. Go to Settings > General > Usage. Here you will see a list of installed apps and how much space they are taking up.
In the screenshot on the right-hand side, you can find apps that are consuming a lot of hard space. For some apps, you tap on the app name and see a few options for cleaning up. For instance, when you tap on the Camera+ app you'll find that this app is storing the second set of photos on top default photo app. For apps like Twitter, you have no option other than uninstalling and reinstalling it to drop junks.
Repair the Settings on Your iPhone
If you are experiencing problems with the battery life of your iPhone the easiest fix is tweaking the settings on your device. Some features are real killers of your battery life. Disabling them can significantly increase the battery life of your device:
Push notifications for email (

Settings > Mail, Contacts, Calendars

).

Push notifications for apps (Settings > Notifications).

Location Services (

Settings > Location Services

).

Disable Ping (

Settings > General >Restrictions > Ping

).
You can enable and disable these settings for each app. So, if you want one or two apps to send you notifications you can keep them, but enabling notification for everything not only disturbs you but also eats the battery life of your phone.
Check iTunes Settings
Having a lot of settings synced with iTunes can slow down your iPhone a lot. So, it's a good idea to go over the iTunes setting when cleaning your device and disable unnecessary syncs.
For example, if you've enabled our favourite podcast manager for iPhone, Downcast, you don't need to download every podcast at the same time.  You also don't need to continue syncing calendar, email and contact. The same goes for other app settings.
Uncheck any boxes that are not relevant to help speed up the syncing process. For instance, if don't use the default email app there is no reason to sync it every time you plug in your phone. The same goes for the default calendar, contact, Safari bookmarks and email.
Clean up Unnecessary Apps
You may be used to having a lot of apps on your iPhone installed. Too many apps not only clutter your homepage and take hard drive space but also slow down your device.  If you like trying a lot of apps every look up the app you don't like and uninstall them as soon as possible.  It's also a good idea that you check your phone at least once a month a clean up unnecessary apps.
Here is how to remove an app in iPhone:
Touch and hold the app icon
Tap Delete the app.
Then tap on Delete to confirm.
Some system apps cannot be deleted from your device, so you won't see the Delete option. Here is a list of Apple apps you can delete from your device (iOS 14 or later):
Activity, Apple Books, Calculator, Calendar, Compass, Contacts, FaceTime, Files, Home, iTunes Store, Mail, Maps, Measure, Music, News (where available), Notes, Podcasts, Reminders, Shortcuts, Stocks, Tips, Translate, TV (where available), Videos, Voice Memos, Watch app, Weather
If an app is stubborn, you can try this:
Touch and hold the app.
Tap the Remove icon   in the upper-left corner of the app.
Tap Delete.
Tap Delete again to confirm.
Remove and Clean Your Case (If You Use One)
We've shown you how to clean your iPhone. If you are using a case to protect your phone there is an extra step you should take once a while. Remove the case and clean the dust collected inside.  This is especially important because dirt and dust can be trapped between the case and iPhone. This dust can eventually scratch the back of your precious device if you are not careful.  If you have a rubber case you can use the mixture of rubber and Windex to clean it up.
Keeping your iPhone clean and fast and expanding its lifespan is not a hard as it seems at the first glance. In this series of two-part posts, we gave you some simple tips for cleaning your device, keeping your phone fast and updated as well as making your iPhone last for a longer time. Following these tips, you will not only make sure that your iPhone is in a good shape but also you will be able to make use of your phone for a longer time.
References