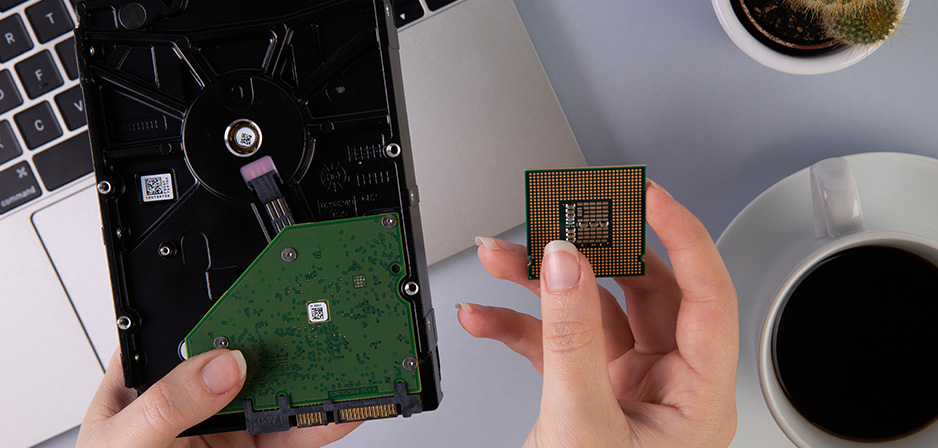 Apple MacBook is one of the best laptops in the markets, and it's for a good reason. It always comes with the latest software and hardware specs, and Apple works hard on its products to remain ahead of the pack.
With the release of new Apple Silicone M1, it's a good time to go over the best microprocessors used in MacBook Pro. That will help you in choosing between MacBook Pros in the market.
How to Compare MacBook Pro Processors?
The processor is what keeps your Personal Computer running. It's often compared to the brain and called CPU-Central Processing Unit. While processor contains other units other than CPU when talking about processors people always mean to CPU.
When comparing microprocessors, you should look for the following features:
GHz:
In simple words, GHz measures the speed of CPU on your MacBook. As you can imagine, the higher the number, the higher operations your MacBook can complete in a given time.
But it's not a good idea to go for the highest number.  In general, a CPU with more GHz is more costly. Besides, a more powerful CPU often needs more power and though, drains you the battery of your MacBook more quickly or even can lead to overheating (This is not the case with new Apple M1 chip, read on to find more).
Number of Cores:
Cores are physical CPUs on the same chip. For example, if you have a 4-core microprocessor it means that your MacBook has 4 independent processing.
You can think about the number of cores as a multiplier to the processing power of your MacBook. Because CPUs in a multiprocessor unit share the load between them, they can carry out jobs faster and often demonstrate better performance. So, you'd better buy a multicore chip instead of a single processor with the same power.
Today, it is very unlikely to find a single-core CPU, even the most basic MacBook Air starts with a 1.1 GHz dual-core chip.
Hyper-Threading:
It's another trick to distribute the load between processes in the CPU. For example, when your MacBook has 4 physical cores and 8 logical, it means that your MacBook divides each physical CPU to two logical units to simulate an 8-core processor. The result is a slightly better performance in parallel tasks.
Cache:
It's a small high-speed memory embedded in some processors and reduces the need to access RAM on the motherboard which usually takes a longer time.  The more cache a processor has, it's performance is better.
Turbo Boost:
CPUs normally run at their base clock (GHz), however, it's possible to increase the clock speed of the chip for a given task. In the computer term, this is calls overclocking and, if done in the wrong way it could cause damage to the processor.
Turbo Boost provides a safe way to overclock the processor. For instance, when you use your Mac for gaming, it makes your laptop run faster and though, you will have a smoother gaming experience.
On the other hand, the disadvantage of the higher clock speed is that it requires more power for operation, and though drains your Mac battery faster. That's why experts recommend that you should treat this feature with care.
What CPU Each MacBook Use?
Since 2006, Apple has been using Intel processor inside Macs.  So, it's not surprising that the speed of MacBook was lined up with the generation of Intel Processors. Every time a new CPU arrived, MacBook users benefit from CPU improvements such as more cores, better speed and support for bigger RAM.
However, due to limitation of Intel chips, Apple finally decided to develop its very-first dedicated microchip called Apple Silicon. The first processor in the series is the M1 chip redesigned from scratch to deliver the best performance and power consumption in the industry.
To find out why let's have a look at the history of Mac processors. The first MacBook Pro released in 2006 came with a 1.67 GHz core-duo processor. Apple kept used core-duo microprocessors inside MacBook until mid-210 when announced MacBook Pro 15" with a 2.4 GHz CPU.
In 2019, the most mighty 16-inch MacBook Pro powered by an i9-2.4 GHz processor arrived. It features a retina display, 16 GB of RAM and 8 GB Video RAM.
Undoubtedly, the 2019 MacBook Pro is one of the most powerful laptops in the market. However, as expected from one top game makers in the industry, Apple didn't stop here and created its first 5-nanometer chip.
Here we listed the processor you can find in the current line up of Macs along with Clock Speed, number of cores as well as Turbo Boost frequency.
| | | | | | |
| --- | --- | --- | --- | --- | --- |
| Model | CPU | Processor Generation | Number of Cores | Clock Speed (GHz) | Turbo Boost Speed (GHz) |
| MacBook Air | Core i3 | 10th (Ice Lake) | 2 | 1.1 | 3.2 |
| | Core i5 | 10th (Ice Lake) | 4 | 1.1 | 3.8 |
| | Core i7 | 10th (Ice Lake) | 4 | 1.2 | 3.8 |
| 13in MacBook Pro | Core i5 | 8th (Coffee Lake) | 4 | 1.1 | 3.9 |
| | Core i5 | 10th (Ice Lake) | 4 | 2 | 3.8 |
| | Core i7 | 10th (Ice Lake) | 4 | 2.3 | 4.1 |
| 16in MacBook Pro | Core i7 | 9th (Coffee Lake Refresh) | 6 | 2.6 | 4.5 |
| | Core i9 | 9th (Coffee Lake Refresh) | 8 | 2.3 | 4.8 |
| MacBook & MacBook Pro (2020) | M1 | Apple Silicone(5nm) | 8 | 3.2 | Integrated GPU+ unified Memory+ 16 Core Neural Network |
How to Find Which Processor Is Your MacBook Right Now?
If you want to compare the performance of your MacBook processor to the latest CPUs, you should first know which processor is it. To find specs of microprocessors hiding inside your Mac:
Click on the Apple Logo on the menu bar and head into "About this Mac".
Click on "System Report" and switch to the Hardware Tab.
Now you can see the hardware specs of your Mac.
Alternately:
Open Terminal from Utilities.
Type "sysctl machdep.cpu.brand_string" and press Enter.
It shows you the Model of your CPU and the digits after the dash(-) denotes your CPU generation.
Comparison Between M1 And Top Intel Processors in MacBook Pros
The benchmarks show that if we discard M1 chip from the list, there is a simple trend in MacBook Pro products. As MacBooks become more expensive, microprocessor they used gets faster. For example, a Core i9 MacBook is faster (and more expensive) than a Core i7 Mac. That means it delivers better performance than a Core i5 and Core i3 processors. Therefore, you can see that the rule governing in MacBook products is simple:" You get what you paid for", hence if you need a faster Mac you should buy a more expensive Mac.
But the things are not so simple with M1 chip. It's sold at a cheaper rate meanwhile offers a better CPU clock and less power consumption per core. M1 chip fills the gaps between efficiency and performance in laptop microprocessors and is regarded as a breakthrough in the CPU manufacturing technologies,
With Integrated GPU and Unified Memory, now MacBook users can bypass the need for an external GPU card and use the system memory for both CPU and GPU access. Therefore, with new MacBook Pro, you don't have to buy an expensive GPU with a lot of VRAM so that you can play every game on your Mac.
Also, using the advantages of the internal 16 core neural engine, some AI-based apps such a face and speech recognition will run smoother on Macs.
To compare M1 with cutting-edge Macs shipped with an Intel-CPU, let's look at the benchmark results of the best CPUs used in MacBook Pro:
You see that new-born M1 chip beats every Intel processor used in MacBook Pro. The closest competitor is Intel Core i9HK whose price is about twice the new-arrival and got a lower score. As Apple claims, and you can see from the benchmark results, M1 offers the fastest single-thread processor results in the market.
When matching Apple M1 with Intel core i9 in a multi-core test, they will get almost the same. However, the price to score ratio of M1 is much smaller. This means that when you buy a Mac with M1 processor you will probably get a better value from your laptop in comparison the money you invested.
Above all, Apple M1 chips deliver this astonishing performance only with one-quarter of power required by other processors. This means that despite having a  clock frequency the battery of your M1 powered MacBook Pro will last longer and generated less heat.
It's undeniable that MacBook Pro shipped with Apple M1 silicon is the most robust and efficient microprocessor that a laptop had forever. Its closest follower is MacBook with Intel Core i9 CPU which is nor as fast as the novel Apple-designed silicone neither power and money efficient. Let's wait to see what other surprises Apple have to offer in the next year.
References