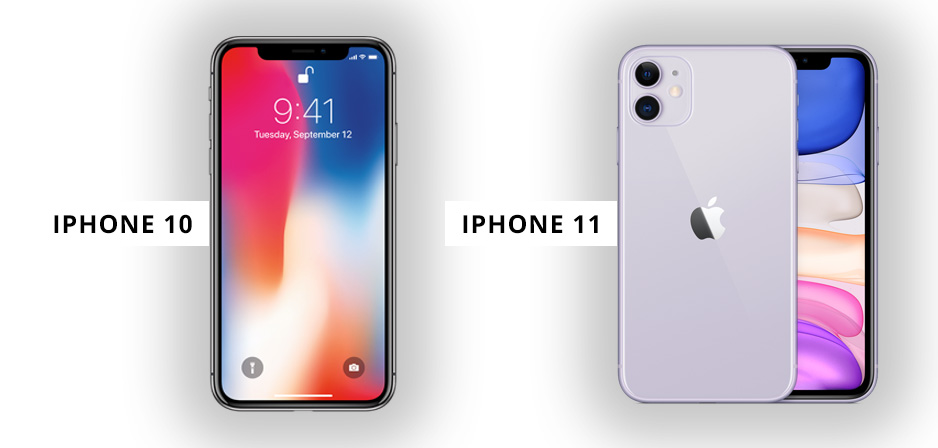 Apple has recently official release of iPhone 11. Although iPhone 11 cannot be considered as the direct successor of iPhone X (iPhone 10) it offers very good improvements over the last year's devices, for a less price. So, there is likely that many people want to upgrade to iPhone 11 this year. Read on as we here compare iPhone X and iPhone11.
The iPhone X is equipped with the Apple A11 Bionic processor, while iPhone 11 is powered by the more recent and powerful version of the Apple processor, Bionic A13. If you are using iPhone X, thanks to the powerful A11 processor, it is not likely that you experience lags or slow down. But if you need more speed and processing power, you may consider upgrading from iPhone X to iPhone 11. It possibly wouldn't change your day-to-day usage but gives you a smoother performance especially in games or CPU-intensive apps.
The biggest difference between iPhone 11 and its older counterparts is the display technology. The iPhone 11 is packed with a Retina LCD with a 1792×828 resolution, whereas, iPhone X features a 458 pixels-per-inch OLED display with a resolution of 2436×1125. Apple produces very high-quality Retina liquid displays with quite advanced technology, but if you have been using iPhone X for a while, you might notice a slight difference in color and brightness compared to iPhone X.
iPhone 11 features a 6.1-inch display which is slightly larger than the 5.8 display of iPhone X. This means that you can enjoy a taller display but not as large as the 6.5-inch display of the iPhone 11 Pro Max. Because it fits well both into packet and eyes, a 6.1-inch display has turned to be the best size for most people.
The standards used to design iPhone 11 are very similar to that of iPhone X, except some key differences. The iPhone 11 comes with an aluminum frame, but iPhone 11 features a more durable frame made of stainless steel. Furthermore, you might notice that the display of iPhone X extends closer to the edges. The reason is an OLED display in iPhone X.
Apple claims that iPhone 11 is more durable than the past models. It has also passed water-resistance tests and is able to survive in a 2 meters deep water for 30 minutes, improved over the last year's counterpart. Despite iPhone 10 that was released only in space gray and silver, this year's product is also available in a range of colors including black, white, red, green, and purple.
The camera system has also received some enhancement this year. iPhone X includes a dual-camera setup with a wide-angle lens and a telephoto lens which enables you to zoom closer to objects while taking photos without sacrificing quality. On the other hand, iPhone 11 features a dual-lens rear camera- a 12-MP wide-angle lens with an f/1.8 aperture and an ultra-wide lens with an f/2.4 aperture. This means that you can zoom further but you get a wider view, a 120-degrees field of view. iPhone 11 also has introduced the night mode, a very useful feature when taking image in low-light environments. The early experiments reported that night in iPhone 11 is promising.
The front camera on iPhone 11 has been upgraded to 12MP and can now record 4K videos at 24 fps, 30 fps, or 60 fps. It also supports for slo-mo 1080p video at 120 fps. The iPhone X has packed with 7MP front camera and supports only 1080 videos.
Apple says that this year the battery capacity is improved significantly for all models. If you look at video playback results, the iPhone X battery can endure up to 13 hours, while iPhone 11 offers up 17 hours of continuous video playback. Both battery systems seem to be good enough for a business day, but with iPhone 11 you have some 3-4 extra hours before you have to plug your phone into the charger.
Perhaps the biggest advantage of the iPhone 11 is pricing. The base version of iPhone X was sold at $999. This year, iPhone 11 64GB originally starts only at $699. So, you can get all brand-new technologies for $300 less than iPhone X. A tantalizing offer!
iPhone X was already an excellent device, but the iPhone 11 is the best value phone Apple release in many years. You 'll get a fast A13 Bionic processor, an improved camera and battery and much more for just $699.