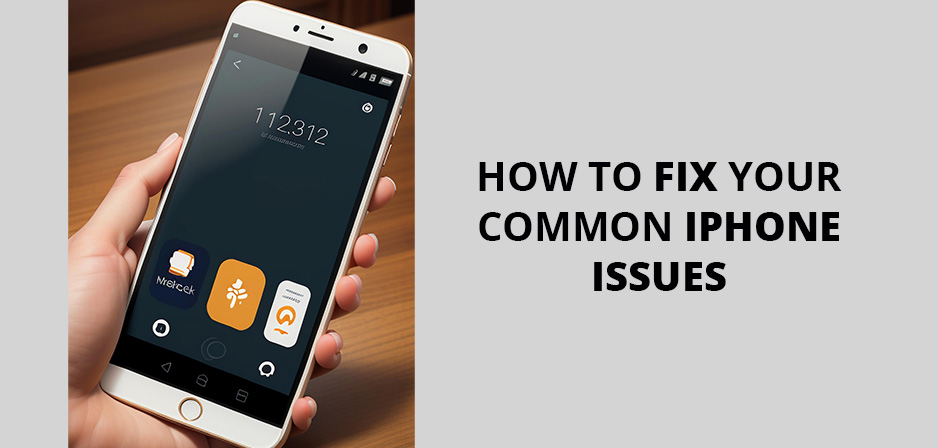 Whether you are facing app crashes, your phone is stopped working, it doesn't charge or you've sucked in a white or blue screen there is often a simple solution for it. We suggest that before heading to an Apple Store or calling a repair shop you check our list of common iPhone problem and fixes.
iPhone won't turn on
The Problem: Your phone doesn't turn on
The Fix: If your phone can't be turned on, check the battery charging. Try charging your phone for an hour. Check that the USB cable and the plug are working and make sure that there is no dust or debris in the phone's charging port.
If it still doesn't work, take your phone to an Apple store and ask them to look for hardware issues such as a dead battery.
iPhone Stuck on Apple Logo
The Problem: Your phone is stuck on the Apple logo
The Fix:  Failed update, Jailbreak, hardware problems, file system, etc. may lead to freezing Apple logo on restart. First, try a force restart, if it doesn't work, try a hard reset or putting you're the recovery mode. Remember that a hard reset removes all data from your device.
iPhone won't Charge
The Problem: Your phone won't charge when plugged in.
The Fix:   First check the charging port for dust and debris. For that, you can use a safety pin or a paperclip with care. If it still not charging, try charging your device with another cable or using another wall plug. If it works, the reason may be a damaged charging cable or wall plug.
If that doesn't work, try a force start. If that doesn't fix the problem your final solution is a factory restart. If your iPhone still can't charge, take it to an Apple Store.
iPhone Touchscreen Not Working
The Problem: Your phone's screen has stopped responding to touch.
The Fix:  if your phone's screen has stopped working first ensure that the screen dry and free from dust and debris, next try a force start, it should work, if not, clear iOS cache and storage space.
When the screen is damaged, cracked or broken it's a good chance that the touch screen is not working because of a hardware problem. Then, you should take your iPhone to the nearby authorized Apple centre.
iPhone Overheating
The Problem: You get a message like 'iPhone needs to cool down before you can use it?' or your device is running hot without the warning message.
The Fix: To fix this issue move your phone to a cooler place away from heat and direct sunlight. Remove the case. Clear dirt and debris from phone holes such as the charging port or headphone jack and then simply wait until your phone cools. For better cooling, you can turn on Airplane mode or switch your phone off for a few minutes.
If this doesn't solve the issue try resetting All Settings on your iPhone and removing CPU-intensive apps. Sometimes upgrading to a newer version of iOS fixes the issue. Only charge your phone when it's cool.
iPhone Won't Update
The Problem: Your phone cannot get the newest iOS update.
The Fix:  Connect your iPhone to a PC or Mac Using a USB cable then force restart your device, this will put your device into recovery mode.  Now you should see an option to update your iPhone, tap on the update and wait until the update finishes and your phone restarts. Now your phone should be and working again.
Don't forget to back up your data before going for an update. In this situation, if anything goes wrong during the update, you 'll be able to restore your data.
iPhone freezes on White Screen
The Problem: Your iPhone is stuck on the white screen
The Fix: Anything from a failed upgrade to jailbreak and hardware problem can lead to a White Screen of Death. When your iPhone is freezing on a white screen the first thing you should do is restarting your device.  If that doesn't work, try hard resetting (factory reset) your iPhone. If a hard reset fails too, boot your phone in DFU (Device Firmware Upgrade) mode.
But remember that both hard reset and booting DFU mode will clear all your settings and data on your phone.
iPhone has no sound
The Problem: You don't hear sound from your iPhone.
The Fix: Make sure that your iPhone is not on silent mode, the volume button is up and Bluetooth is turned off. If your phone still has no sound, open a music app and set the volume with the slider or volume button.
Still no sound?  Restart your phone and check the sound again. If the problem persists your phone's speakers may be damaged.  Take your phone to an authorized repair shop. When required, they will repair or replace the speaker.
iPhone Won't Connect to Wi-Fi
The Problem: Your iPhone cannot connect to Wi-Fi
The Fix: Turn off and on Wi-Fi to see if this solves the problem. Swipe up on the screen to open iPhone's Control Centre and tap on the Wi-Fi button.  Wait for a few second and tap on the button to turn Wi-Fi on. If this fail, try the same, but with Airplane mode.
If you still can't connect to Wi-Fi, go to the phone setting and Wi-Fi. Find the network you're trying to connect to and hit and tap Forget This Network. Then reconnect to the network entering the Wi-Fi password. Only do this if you know the password of the network.
Still not working? Attempt 'Reset Network Settings' under iPhone's Settings and restart your phone. This should fix the problem, otherwise, it may be from a hardware issue or incompatible iOS update.
After upgrading to a newer version of iOS some users complain that their iPhone is no longer able to connect to the Wi-Fi network. In this case, try to upgrade your phone to a newer version or restore an earlier version. That will probably fix the issue.
Data Lost After Upgrade or Jailbreak
The Problem: You lost all data on your phone after a jailbreak of upgrade
The Fix: it's a very good chance that you lose all data on your iPhone hard such as videos, photos, contacts, and messages etc after updating to a new iOS version or jailbreaking your device. In this case, if you have an iCloud or iTunes backup, you can easily sync your phone with these services and your data will be recovered in a few minutes.
Otherwise, you have no solution other than using a third-party data recovery app for iPhone or taking your phone to an Apple store. The recovery is not always successful.
The Bottom Line
Here we listed the most common issues of iPhone and their solution. However, if you cannot find the answer to your problem, first try force restarting your phone. This will refresh your phone's memory and probably stop any sudden software issues.
References